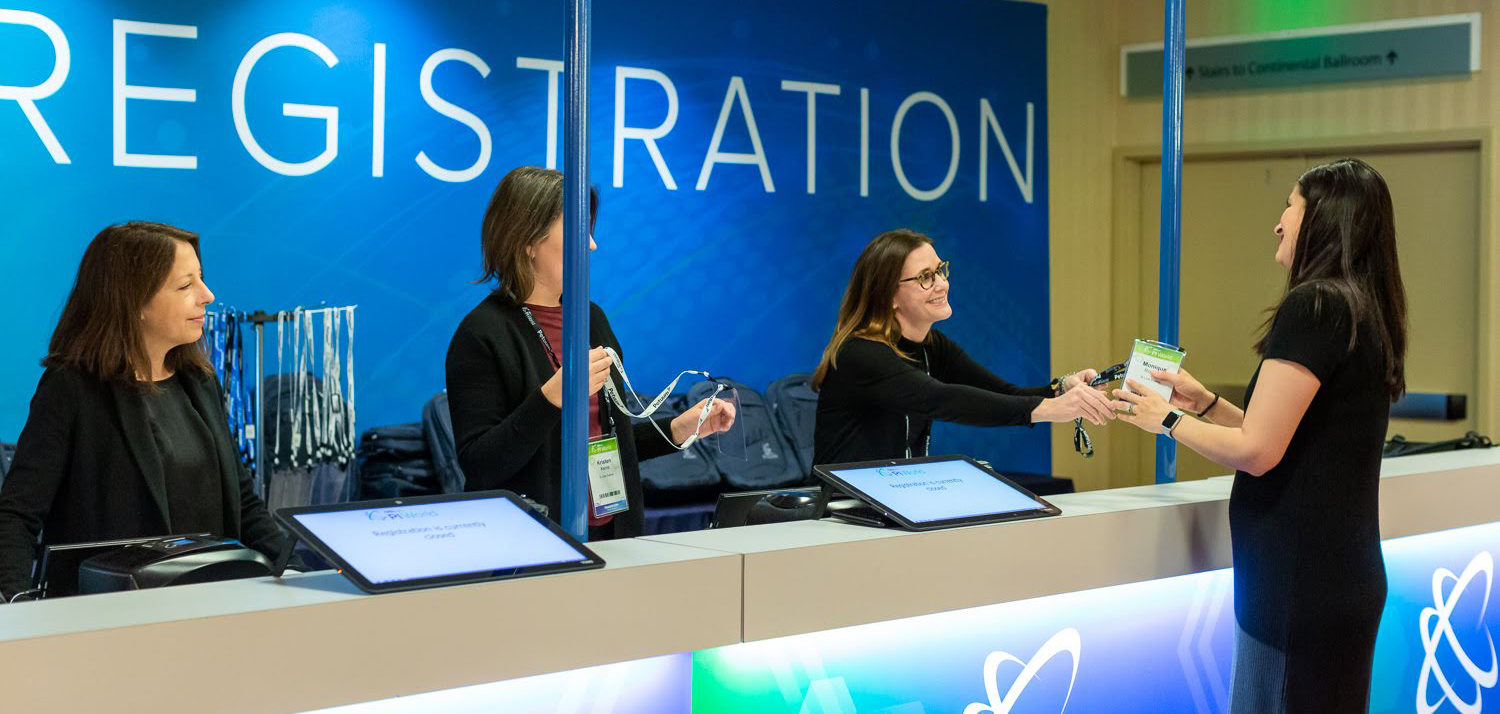 We can take your event up to speed.
Event registration technology changes in the blink of an eye. Our team keeps up with the latest tools and solutions to create a seamless, secure experience!
Event Technology and Registration
Whether you need help finding a mobile app for your conference, tracking attendees, or a contactless badge printing solution, we can help you keep up with the latest tech solutions.
---
Event Registration Services – FAQs
What is registration in event management?
Registration in event management refers to the process of collecting information and data from attendees who plan to participate in an event. This information may include personal details, contact information, ticket purchases, and other relevant data. Registration is a crucial step in event planning as it helps organizers manage the logistics of the event and communicate with attendees effectively.
What is an event registration system?
An event registration system is a software platform that facilitates the registration process for events. It allows attendees to sign up and pay for tickets or registration fees online, while organizers can manage attendee data, ticket sales, and other event logistics through the system. An event registration system streamlines the registration process, minimizes errors, and helps organizers collect valuable data to improve future events.
Why should I use an agency like B Line Events to manage event registration? 
Using an agency like B Line Events to manage event registration can provide several benefits, including professional expertise in event planning and registration logistics, access to advanced event registration software and tools, and the ability to handle complex event registration requirements. B Line Events can also provide personalized support and guidance throughout the registration process, which can help ensure a smooth and successful event.
---
Website Registration Services
B Line can build and manage registration sites using your existing registration software, or guide you through the process of selecting the appropriate software. In addition, we hold licenses to several registration platforms, and can build your site utilizing our license.
Mobile Apps and Engagement
B Line Events is always ready to implement the latest tools and evolving strategies. Whether your priority is attendee networking, wayfinding or agenda information, we can help find the best app for your event. We can help you find the right technology from event apps, to lead scanners and badging options, to wearables and technology for data management and audience engagement.
Attendee Tracking and Engagement
From RFID to beacon devices to badges that allow both tracking and networking, we can find the perfect solutions for your needs without making your attendees feel like big brother is watching.
On Demand Badge Printing and Mobile Check-in
Let us find the best check-in solution for your event. We stay up to date on the latest platforms and can help you find the right solution for your on-site registration whether it be through QR codes, mobile lists or facial recognition.
"With B Line Team's support, I organized a conference for our international portfolio of 50+ CEOs and founders. They made the things that needed to be invisible (logistics, hard work, details, negotiations) invisible and were the calming and experienced extension to the team that we needed. It was a total joy to have their expert opinion on tap – and the result was magical. Hire them immediately."

SquarePeg
Get in touch
Put our connections to work for you. We'll work together to create one-of-a-kind event experiences that deliver on your unique goals.
Contact Us